ASCO Project Photo Galleries
Industrial Coatings & Painting
Commercial Coatings & Painting
Military Coatings & Painting
Miscellaneous & Variety Projects
ASCO Services
Industrial Applications
Commercial Applications
Military Applications
ASCO Video Galleries
Belzona Introduction
Belzona Super Metal
ASCO on Yellowbook
ASCO Capabilities Video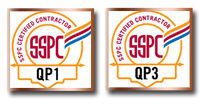 U.S. Military Coatings and Applications



ASCO has spent the last 25 yrs refining it's capabilities to provide the military and ship repair facilities with a reliable, economical source for all your coating needs. At ASCO we understand the importance of proper surface preparation, masking procedures, surface containments such as (chlorides, sulfates, nitrates) proper handling/tracking and quality control. Our shop is set up for just this purpose with our climate controlled paint booths, our large powder coating facility, or the surface preparation rooms that can achieve any blast specification required. All systems meet or exceed environmental compliance.



Applications and Capabilities:
Watertight Doors
Ground Support Equipment
Net Frames
Valves
Ammo Lockers
Bow Thrusters
Rudders
Top Side Equipment
Crane Davits
Vehicles
Fork Lifts and Yellow Gear
Boat Trailers
Fabrication Steel
Foundations
Antenna Platforms
Tracked Vehicles
Fuel Distribution Equipment
Water Distribution Equipment
Pumps
Electrical Enclosures
Cabinets
Ductwork
Air Plenums
Louvers




Coatings:
CARC Green, Tan, Gray
Powder Coatings
Mil-Spec Paint Systems
Belzona Coatings and Repairs
Flame Spray Coatings Aluminum
Polyurea, Bed liners, Elastomeric
Plastisol Coatings all colors
Ceramic Coatings
Black Oxide



Contact us today for more information on specific coatings and applications. Be sure to visit our military project gallery.
Industrial Painting & Coating Applications
Commercial Painting & Coating Applications
U.S. Military Painting & Coating Applications
Powder Coating