ASCO Project Photo Galleries
Industrial Coatings & Painting
Commercial Coatings & Painting
Military Coatings & Painting
Miscellaneous & Variety Projects
ASCO Services
Industrial Applications
Commercial Applications
Military Applications
ASCO Video Galleries
Belzona Introduction
Belzona Super Metal
ASCO on Yellowbook
ASCO Capabilities Video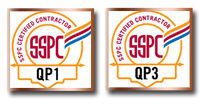 Industrial Coatings & Painting



Experience, Safety and Quality should be your first choice when choosing a high performance coatings contractor. ASCO maintains a high record of performance in our 38,000 sq ft facility as well as carrying this experience to the field. For 25yrs we have been answering the call of corrosion, chemical attack, erosion problems, concrete problems, specific coating needs and decorative/architectural coatings.



Types of coatings applied:
FBE Powder Coatings
Powder Coatings
Antimicrobial Coatings
Elastomeric Urethane
Polyurea
Polymer Coatings
Metalizing/Flamespray
Ceramic Coatings

Epoxy
Polyurethane
Vinyl Ester
Polyester
Novolac
Zinc-Rich
Enamels
Plastisol

Electrostatic
Fluidized Bed
Airless
Plural Component
Miller Thermal
Metco
Graco
Binks




Coating and Lining Manufacturers:
Advanced Polymer Coatings
Belzona (certified )
Ceilcote
Devoe
Ellis
Engard
General Polymers
International Protective Coatings
PPG High Performance Coatings
Plasite
Sigma Coatings
Sentry Polymers
Tnemec
Ameron Protective Coatings
Carboline
Devcon
Dupont
Enecon
Freecom Ceram-Kote
Hempel
Keeler & Long
Plastisol
Rust-Oleum
Scotchkote Powder Coatings
Sherwin Williams Industrial Marine Coatings
Valspar ……AND MANY MORE.




Applications and experience:
Pumps and Impellors
Processing Equipment
Fabricated Structural
Architectual Structures
Non-Stick Surfaces
Cooling Towers
Water Boxes
Large Valves
Tube Sheets
Demin Tanks
Plate Steel
Floor Coatings
Fork Lifts
Duct Systems
Blowers
Second Containment
Piping Internal Coatings
Conveyor Equipment
Spalled/Cracked Concrete
Non-Slip Surfaces
Construction Equipment
Vessals and Tanks
Hoppers
Auger Systems


Contact us today for more information on specific coatings and applications.
Industrial Painting & Coating Applications
Commercial Painting & Coating Applications
U.S. Military Painting & Coating Applications
Powder Coating